A Magical Afternoon
Parents and children saw a rabbit appear as if by magic when they joined this weeks arts and crafts session. A life size rabbit mysteriously appeared from a 'package' carried into the hall by Miss Hughes and Miss Carter. A thought provoking session culminated in children being able to perform their own magic trick! Well done the magical rabbit's assistant.
Fifteen families have taken part in an art session after school. This was one of three planned sessions taking place on Thursdays between 3.15pm and 4.15pm. Everybody had the opportunity to create a 3D postcard for an exhibition taking place at Saltaire United Reform Church. The exhibition is part of Saltaire Arts Trail which is taking place over the weekend of 28th to 30th May.
Year 5 Art Club members have been looking at colour and perspective to produce some exciting collage work. In addition they have been working on kaleidoscope name art, again, looking at colour, they are working on warm or cold colour patterns.
The latest after school family art session was a 'spot' of painting. Lizards, turtles, kangaroos and snakes were all painted using a dot technique used by aborigines in Australia. Many of our artists also incorporated some of the traditional aboriginal symbols into their artwork so that their pictures also told a story.
Parents and children were very busy creating paper birds in cages during the third of our family arts and craft sessions. Ribbon, feathers, stickers and buttons were just some of the items used as decoration. Everyone also had the opportunity to vote for their preferred activity for the fourth and final session. Watch out for aboriginal, animal paintings next week.
Lots of sewing took place at our most recent family arts and crafts session. We had many first time stitchers who persevered and created some colourful textiles as you can see from the photographs.
Year 5 explored colour in their first art club session. They created colour wheels and practised shading and tinting.
Dominoes-see Events pages.
Choir rehearsals take place every Wednesday lunchtime. Our keen, young singers are now learning Christmas carols.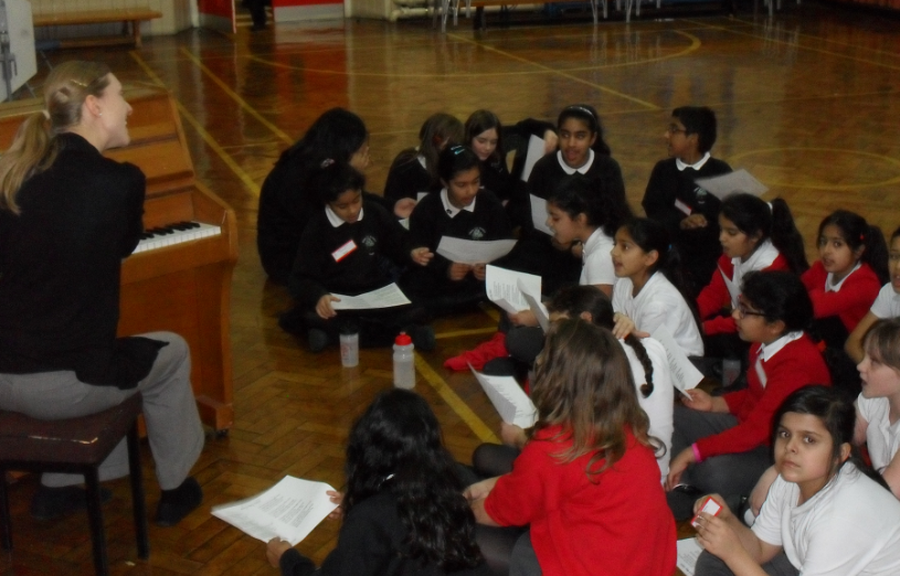 Year 4 children explored healthy food options in a new after school club. As well as identifying different food types the children practised safe knife handling techniques as they prepared a tasty fruit salad.
Wednesday after school currently sees Years 3 and 4 practising their Tennis skills during the Multi Sports session. The children have opportunities to choose future activities but have so far had sessions on football, rounders, athletics and gymnastics.