A HUGE THANK YOU
A HUGE THANK YOU
14 December 2017 (by admin)
Parents would like to say a big thank you to staff who helped getting children safely into school this morning.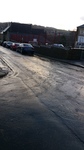 Teachers, Mr Barker and Mrs Smith braved the elements this morning when back Birklands turning into an ice skating rink!
Pupils were escorted safely across the icy road by Miss Hughes, Mr Wilkinson, Miss Keighley, Mrs Blake, Miss Water, Mrs Bowers & Mr Barker. Meanwhile, Mrs Smith, Mrs Eccles and Miss Halliday stood at the road entrance and stopped traffic driving onto the icy road whilst children were walking into school. Thank you.