Paren't Views added to website
Paren't Views added to website
2 January 2018 (by admin)
Thank you to those parents who completed a feedback / comment form to Governors at the October parents evening. Your comments have now been added to the website under the parent section.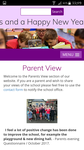 There will be an opportunity to meet your Governors at parents evenings. Please come and say hello or have a chat.
You can also use this time to give any comments.
If you would like to add anything sooner please email the office using a contact form. Anything of an urgent matter should be brought to the schools attention immediately.
Thank you
B Whitfield, Parent Governor