On Britian One Nation Day
On Britian One Nation Day
29 June 2018 (by admin)
What a fantastic day!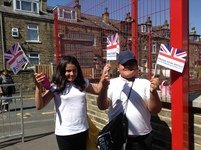 Shipley Primary School have been learning and celebrating the diverse family that work together to make Shipley unique. We have celebrated our traditions from clothes that we wear at special times, food that we eat, books that we read, journeys that we take. We have learnt about the different countries our families represent and the traditions we have in our school and at home. Thank you everyone for sharing your special times and moments and being proud of who you are.
We are proud to be British and proud to be Shipley.