RE
As a voluntary aided school, the RE curriculum is based on the Diocese of Leeds and York Diocesan Syllabus for Religious Education.
We use the Understanding Christianity resource which enables learners to acquire a thorough knowledge and understanding of the Christian Faith. In-depth studies of other religions are covered by various year groups: Islam – Year 1 and 5, Judaism – Year 2, Hinduism – Year 3, Sikhism – Year 4. All major festivals are covered by all year groups.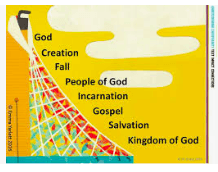 RE is taught by the class teacher through weekly timetabled lessons. Visitors and visits are used to enhance teaching and learning. Each year group is allocated a place of worship for different Christian denominations. Visits to places of worship for other religions also take place when appropriate.
Further opportunities are sought to develop RE in the curriculum through RE days such as 'One Britain One Nation Day' and 'Christian Aid Week.'
RE areas and wall displays are visible in every classroom. This encourages the children to revisit, reflect and develop further their learning from the RE lessons.
Mrs Pellant
RE Co-ordinator
To see our RE curriculum plan click here