Clean Air Day 21st June 2018
Clean Air Day 21st June 2018
21 June 2018 (by admin)
Norwood Neighbourhood Association, community members, parents and puppets joined forces this morning on Otley Road to raise awareness of poor air quality around school.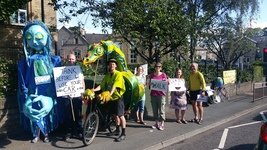 With vehicle pollution being at an all time national high. Norwood Neighbourhood Association are taking steps to raise awareness of the importance of improving air quality around the school.
A stall will be visible today between 2.45pm -3.30pm this afternoon where parents and children can seek advice on alternative ways to come to school such as walk, bike or scoot.
Enquire about free cycling training or pick up a leaflet which covers air pollution within the home, when you're out and about and what you can do to protect yourself and your family.