Our Curriculum for 'Life in all its Fullness'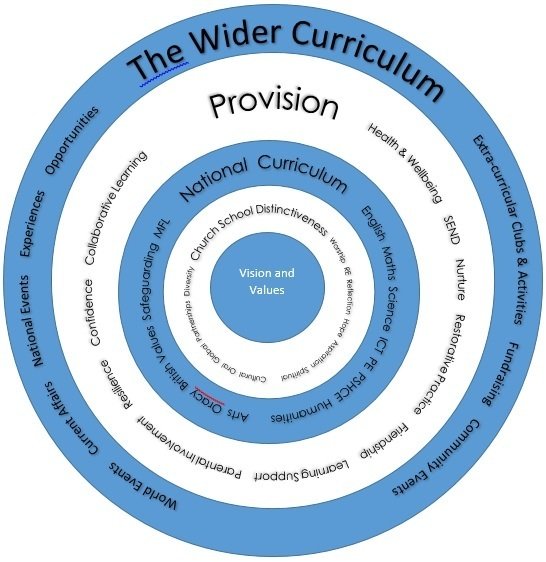 At Shipley our curriculum is driven by the school's Christian Vision and Values. The key elements of our curriculum are shown in the image.
We have a framework of knowledge and skills which we recognise is delivered through everything we do and is taught at key points during pupils' time at Shipley to nurture creative life-long learners.
In order to succeed as a life-long learners, pupils need to be confident, articulate communicators who think and behave creatively to be independent, challenge themselves and succeed. Awareness of themselves and the wider world provides them with a sense of belonging. These key skills form a golden thread, which is taught throughout our curriculum framework.
Knowledge gained at each stage of our curriculum is planned so that pupils are taught to develop broad ideas to think critically. Each stage is linked to the national curriculum and has been carefully chosen to reflect the context of the school. Knowledge and skills are linked carefully between ages and stages and pupils revisit and build on previous learning during their journey through the school.
We offer a curriculum which reflects national policy and is tailored to the needs of our pupils. It promotes high standards and accelerates academic progress. It is also about uncovering and nurturing the talents within each child, developing core values and virtues, growth mind sets and essential skills for life in a 21st century world. We learn best when we feel safe and happy and confident. Therefore our curriculum is also about promoting happiness, fun and celebration.
Mrs A Smith
More detailed information can be found at: https://assets.publishing.service.gov.uk/government/uploads/system/uploads/attachment_data/file/425601/PRIMARY_national_curriculum.pdf
If you require more information to help support your child, please speak to their class teacher.
Find our subject pages by clicking on the links
Art & Design, Computing, Design Technology, English, Geography, History, Mathematics, Modern Foreign Language - Spanish, Music, Personal, Health, Social, Cultural Education, Physical Education, Religious Education, Science, Safeguarding Curriculum Overview,